KICKBACK STONELEIGH PARK, WARWICKSHIRE 7-8th APRIL 2018
Monday, 19 March 2018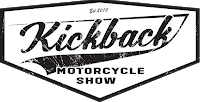 SO WHAT EXACTLY IS KICKBACK?

"KICKBACK is an eclectic mix of choppers, bobbers, retro customs and classics. Heartened by the positive vibe and encouraged by the attendance..." Built Magazine

KICKBACK is an expression of nonconformity, and in a world saturated with second-rate copies, a display of rebellion and individuality rocks.

KICKBACK is an independent, grass-roots motorcycle exhibition dedicated to street customs, modified classics and mainly DIY shed builds. It was built with autonomy, grit and determination from the bottom up – just like the bikes we celebrate.

No big corporate money men with deep pockets and clean hands – this is the sting-in-the tail industry platform for young builders and craftsmen with wild imaginations and dirty fingernails. ​​​​KICKBACK is a celebration of engineering and design excellence which embraces the modern custom scene and the new wave.

KICKBACK is a definitive showcase for rare classics and customised gems; built in sheds, garages and workshops by young engineers as well as experienced professionals...
We are exhibiting here over the entire weekend so please come and visit us, our stand is hall 2 stand107 with all the amazing products.