Federation of Harley-Davidson Clubs Europe Super Rally 2015 21st – 25th May 2015
Wednesday, 20 May 2015
Federation of Harley-Davidson Clubs Europe, Super Rally®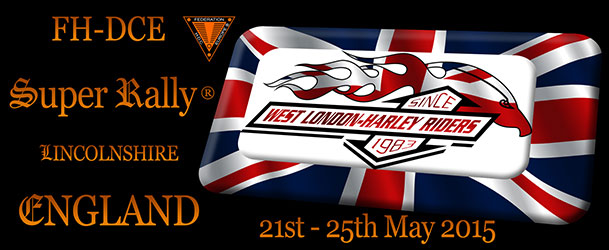 Every year in a different place, the Super Rally® is organized by a different member club of the FH-DCE, and attracts an average of 10,000 visitors. This is the most European Harley-Davidson Rally that you can imagine. Riding a Harley-Davidson is meeting new friends; discovering other countries and cultures, and all this is packed into the FH-DCE Super Rally®
It goes from north to south, east to west, and every year it comes with a new surprise, each host club offering something a little different making each Super Rally® unique.
Est. 1991 and in 2000 accepted under European law as an E.E.I.G., a European Economic Interest Group and therefore recognized and accepted under European law. FH-DCE complies with EU standards with regard to its organization. The name FH-DCE Super Rally® and the FH-DCE logo are registered trademarks, owned exclusively by the FH-DCE member clubs.
With 35,000 members we are the largest community of totally independent Harley-Davidson Clubs (H-DC) from most European countries and are the only motorcycle enthusiast organization allowed to use the name and logos of the Harley-Davidson Motor Company, USA.
2014 H-DC Estonia hosted the 40th Super Rally in Tallinn - Estonia 5th - 9th June 2014
Returning to England for the first time in 26 years West London Harley Riders are proud to host the event in 2015. The 4 day event is to be held at Lincolnshire Showground 21st – 25th May 2015, and is a great opportunity to bring people together with a common interest.
This event will bring a huge amount of trade to local businesses and within the county as a whole, - ranging from petrol stations, pubs, hotels, cafes, restaurants and historical places of interest. There will be a large number of guests who attend our event who will extend their visit to England and use Lincolnshire as a base for site seeing trips out. The biking community are a very diverse range of people and are keen to make best use of their time whilst in the country.
The Venue: Lincolnshire Events Centre, UK
Antigravity batteries will be here with our amazing lineup of jump starters and Lithium Batteries.