Automotive
We're excited to introduce a NEW addition to our Starter Battery product line. The Antigravity RS-20 & RS 30 Lithium Car Batteries are the first of their kind on the market – they feature a built-in Battery Management System (BMS), automatic Low-Voltage Cut-Off, plus our exclusive RE-START technology. From Race and Performance applications to Daily Driving use, this very compact & lightweight Lithium battery is the most cost effective weight-loss product hands-down. Enjoy better handling, shorter breaking distances, better acceleration, better gas mileage, and many other benefits.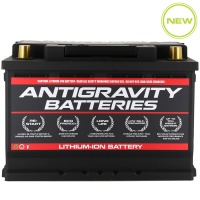 Antigravity H6/Group-48 Car Battery£747.99 - £912.99
Antigravity Batteries has changed the game again with our latest Lithium-Ion Car Batteries. The newest RE-START line of batteries offers built-in WIRELESS Jump-Starting!